Your Guide to the Mont Saint Michel Bay
Contents
Mont Saint-Michel is a tidal island in Normandy where the resident nuns and monks live and pray in the Abbey. This island is known for its architectural and cultural heritage while the surrounding bay further adds to its charm. Both the island and its bay are on the UNESCO World Heritage Sites and receive over 3 million visitors every year. Mont Saint-Michel Bay is the site for the highest tides in Europe and is one of the most beautiful bays in the world. The Bay is home to a diverse natural environment and offers a lot of amazing views and attractions for visitors to enjoy.
About Mont Saint Michel Bay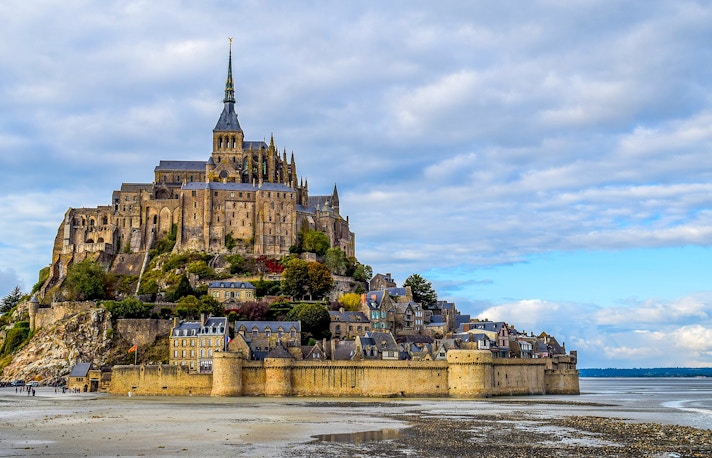 Mont Saint-Michel Bay, designated a UNESCO World Heritage Site and a Special Protection Zone, hosts a diverse ecosystem. During low tide, it serves as a natural sanctuary for various bird species like avocets, ospreys, and over 130 other bird types, including migratory species such as bean geese and wigeons.
The bay is also rich in marine life, offering a habitat for numerous fish species like sea bream, ray, and seabass, and occasional summer sightings of seals and dolphins, following warm Atlantic currents and observed near Normandy's coastline, often accompanying fishing boats.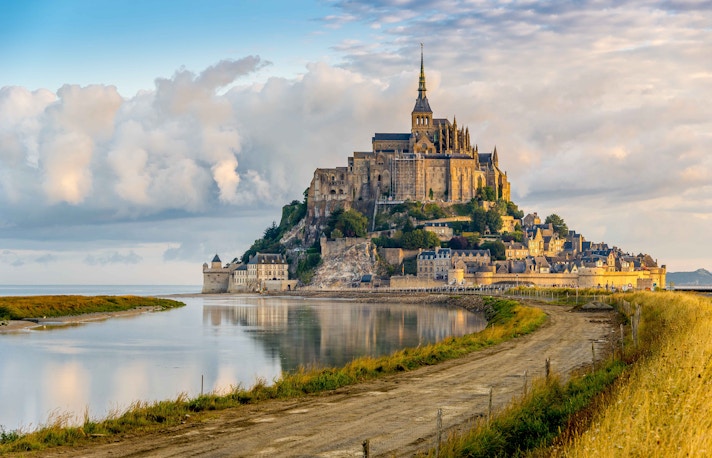 Despite challenges like sand buildup and agriculture impacting the flora, Mont Saint Michel Bay remains a vital breeding ground. It boasts salicornia plants in its salt marshes, a valuable food source for grazing animals. Additionally, the bay is famous for oyster and shellfish harvesting, with products distributed worldwide.
What sets Mont Saint Michel Bay apart is the fascinating transition between high and low tides. During low tide, visitors can walk to the tidal island, revelling in the stunning landscapes that envelop the bay.
Tides of Mont Saint Michel Bay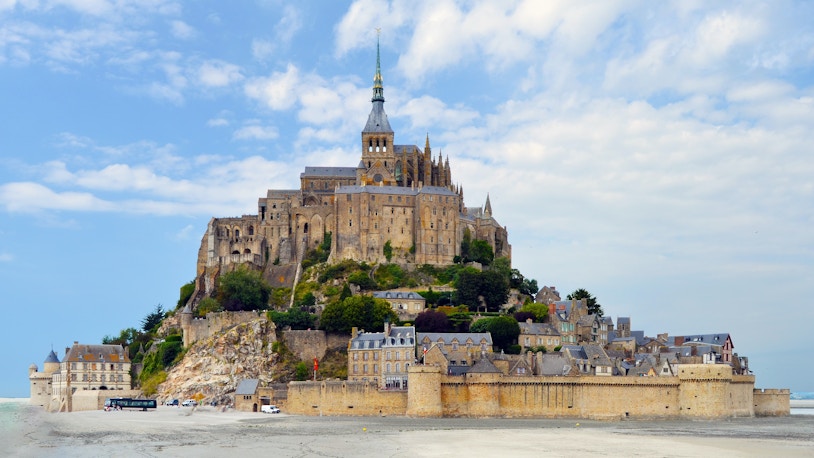 Mont Saint-Michel Bay, one of the most beautiful bays in the world, has a unique design. Due to the significant tidal movements in this area, high tide at Mont St Michel Bay is a stunning phenomenon to witness, while the low tide leaves the majority of the bay uncovered.
There are two reasons for the bay experiencing the highest tides in Europe — how shallow it is and the Cotentin peninsula forming a natural barrier. The water levels can reach up to 15 meters during high tide. Before road-dykes, Mont Saint-Michel was inaccessible to the pilgrims and the tourists during high tides. The rising of tide is quick and the water advances at a speed of up to 6 km/h that can lead to drowning if you aren't careful. This is why it is advised to not walk through the Mont Saint-Michel bay without an experienced guide.
Plan Your Visit to Mont Saint Michel
The Dykes
The first dyke, Duchess Anne Dyke, was built on the bay in the 11th century to make the island accessible to the pilgrims. In the 19th century, a road-dyke was built and in the 1980s, a new dyke, elevated on pillars, was built to allow the English Channel's water to flow freely.
What to do in Mont Saint Michel?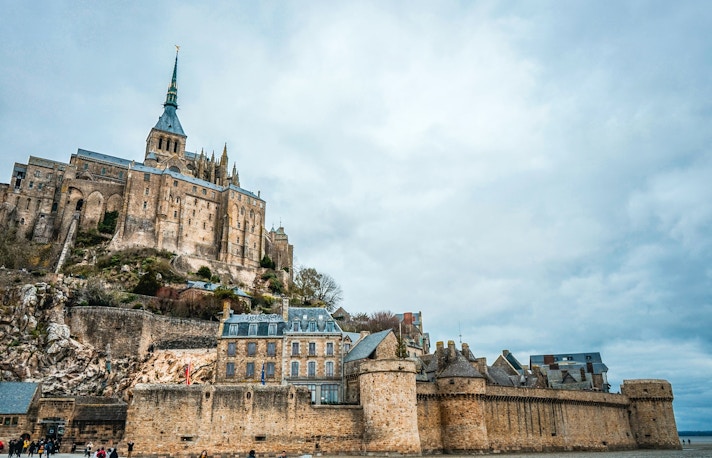 Cross the Bay
Cross the Saint Mont Michel Bay during low tide and enjoy the stunning landscapes around you. You might even be able to observe migratory birds that visit here every year.
Mont Saint Michel History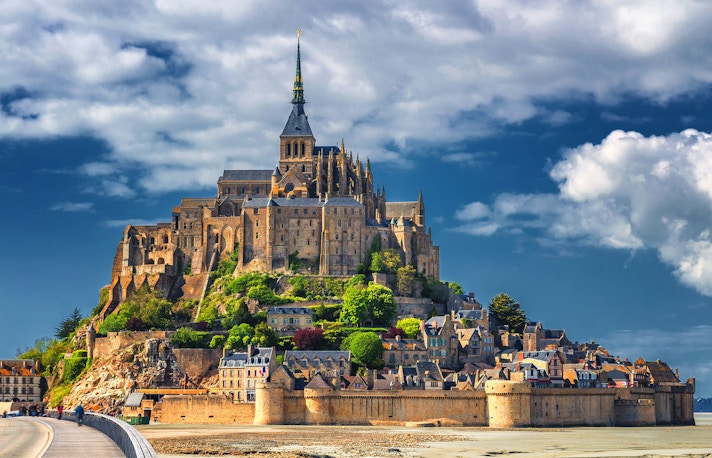 Visit the Abbey
This is the famous architectural marvel at Mont Saint Michel. Take a guided tour to learn its history and enjoy the stunning views of Mont Saint Michel bay from here.
Mont Saint Michel Abbey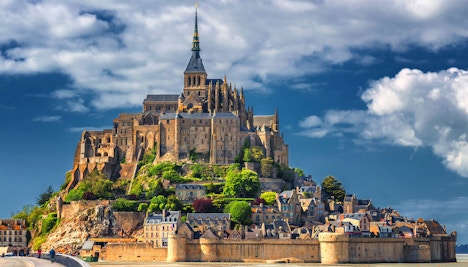 Museums
Apart from popular attractions, there are four museums to visit on Mont Saint Michel - Logis Tiphaine, Archéoscope, Historical Museum, and Maritime Museum.
Mont Saint Michel Facts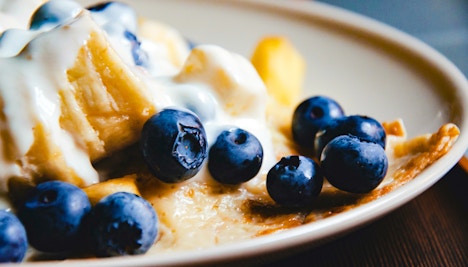 Restaurant
This island is famous for omelettes and crepes. You can enjoy a delicious omelette at La Mere Poulard or you can try the best crepes at Crêperie La Cloche.
Mont Saint Michel Restaurants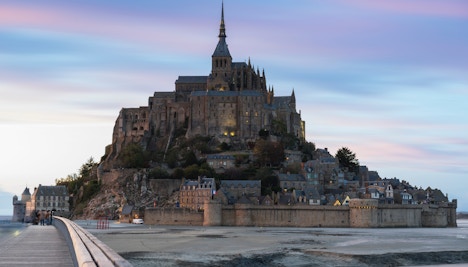 Stay the Night
It is possible to visit Mont St Michel bay from Paris but it can be a long and exhausting trip. You can stay the night at Rennes or Saint-Malo or enjoy camping.
Mont Saint Michel Hotels
Book Mont Saint Michel Bay Tickets
All Your Questions About Mont Saint Michel Bay Answered
Is Mont Saint Michel worth visiting?
Mont Saint Michel is one of the most popular attractions in France and receives over 2.5 million tourists every. Due to its rich history, good cultural base, and stunning views, it is definitely a must-visit attraction in Normandy.
How can I cross the Mont Saint Michel Bay?
Visitors can cross the Mont Saint-Michel Bay by foot, via shuttle bus, or a horse-drawn carriage.
What is the best time to cross the bay?
The best time to cross the Mont St Michel bay is between 9 AM and 10 AM or 3 PPM and 4 PM to avoid the long queues. This is, of course, subject to the tides.
Can you visit Mont St Michel Bay at high tide?
No, it is not possible to cross Saint Mont Michel Bay at high tide by foot or a shuttle bus. You can, however, watch the tide rush in from the island, mainland, or the bridge.
How much time do you need at Mont St Michel?
Visitors can spend around 4-5 hours when exploring Mont St Michel and its bay.
Where is Mont Saint-Michel Bay located?
Mont Saint-Michel Bay can be found just off the shores of Normandy, France.
What makes Mont Saint-Michel Bay unique?
Mont Saint-Michel Bay's uniqueness lies in its tidal island, Mont Saint-Michel, a rocky islet that emerges as an island during high tides. This island is surrounded by expansive sandbanks most of the time and holds historical and cultural significance from the Middle Ages.
How do tides affect Mont Saint-Michel?
Tides have a profound impact on Mont Saint-Michel by enveloping it with vast sandbanks most of the time, transforming it into an island only during high tides. These tides in Mont Saint-Michel Bay are some of Europe's highest, reaching up to 46 feet (14 meters).
Is Mont Saint-Michel accessible at high tide?
Yes, Mont Saint-Michel remains accessible during high tides, thanks to a causeway or a bridge connecting the island to the mainland. The bridge, introduced in 2014, replaced the traditional causeway.
Can you walk to Mont Saint-Michel during low tide?
Yes, visitors can explore Mont Saint-Michel on foot during low tide when the extensive sandbanks surrounding the island become visible. However, caution is necessary due to potential quicksand dangers, and following designated paths is advised.
What are the dangers of the quicksand in the bay?
Quicksand in the bay presents the risk of getting stuck and sinking, posing a potential threat to visitors' safety. Staying on marked paths and avoiding sandbanks during high tide or incoming tides is essential.
What wildlife can be observed in the Mont Saint Michel Bay area?
The Bay Area is home to a diverse array of wildlife, including birds, fish, and marine mammals. You can witness seabirds like gulls, terns, and cormorants, as well as seals and dolphins in the bay.